Contemporary Art at Beaufort Court
Courtyard sculpture for RES at Beaufort Court
Sculptor: Peter Lardi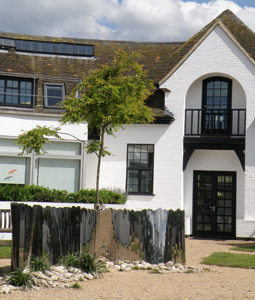 RES harnesses four main sources of renewable energy at Beaufort Court: from the wind, the sun, biomass and the earth.
The sculpture's form suggests all of these. It comprises an arc of polished stainless steel elements randomly orientated creating a dynamic and energetic image, hence the title for the work 'Earth Energy Rising'.
The core of the sculpture is formed from short lengths of European Redwood from sustainable forest sources. The lengths would normally be considered waste destined for burning or landfill and the re-use relates well to the RES ethos of sustainability.
"Where possible when creating sculptures I incorporate surplus materials, often obtained from construction sources. This is a consistent concept as for me as 're-use' has a wider social context related to revisiting ideas, situations, relationships etc for a 'second chance'
When viewing the sculpture I hope 'emerging energy' is readily apparent. It has been a pleasure to work on this project. Everyone I have met at RES has been helpful and supportive which has contributed to the courtyard sculpture."
Peter Lardi, June 2009